Episode 1.2: To the House of Sextus Aemilianus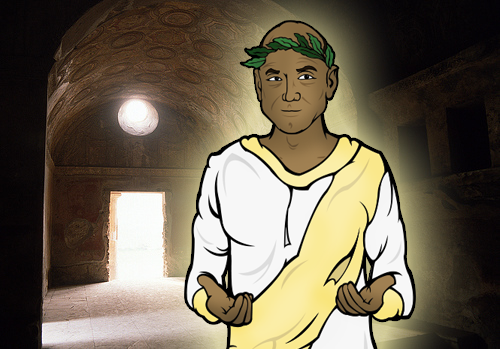 Octāviāna rogat, "quis es, ō Sexte?"
Sextus rīdet. "estnē necesse, ō Recentiī, scīre dē mē? rēs difficilis est. necesse est vōbis putāre mē virum iuvātūrum vōs. sum amīcus tuus."
Octāviāna Sextō crēdit. Sextus est fidēlis.
dīcit Bellātor, "sed cūr nitidus es, ō Sexte? possum enim vidēre tē lumen dantem. nitidus es, et candidus."
iterum rīdet Sextus. "sumnē nitidus? nōn possum mē vidēre."
ēheu! Octāviāna et Bellātor sunt cōnfūsī. Sextus nōn potest sē vidēre? quid?
---
quid Recentiī dīcunt?